We breed from only the best quality bloodlines in the world adhering to the strict German SV standard. Our dogs are health tested (hips, elbows, back and DM) and are titled from both showline and working lines, raised in the house and already started before they go home! What else separates us from other Michigan German Shepherd Breeders?
---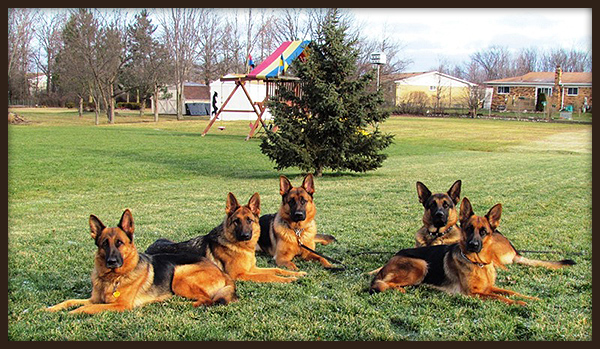 Von Buchmann German Shepherds, aka Michigan German Shepherds, is not a kennel but we are a home where our handful of dogs, bred to the strict German standard, stay inside with us and are a part of our family.  We just love German Shepherd dogs and puppies and we strive to only breed the best top bloodlines in USA and Germany. They are family members to us. We stay small so every dog can get the attention and time they deserve, and our puppies can be raised in a family situation. Our puppies are not only born in the house, but they stay in the house. Our German Shepherd puppies go from our whelping box right to crate training and house breaking introduction. We get several comments from families they are very easy to finish housetraining.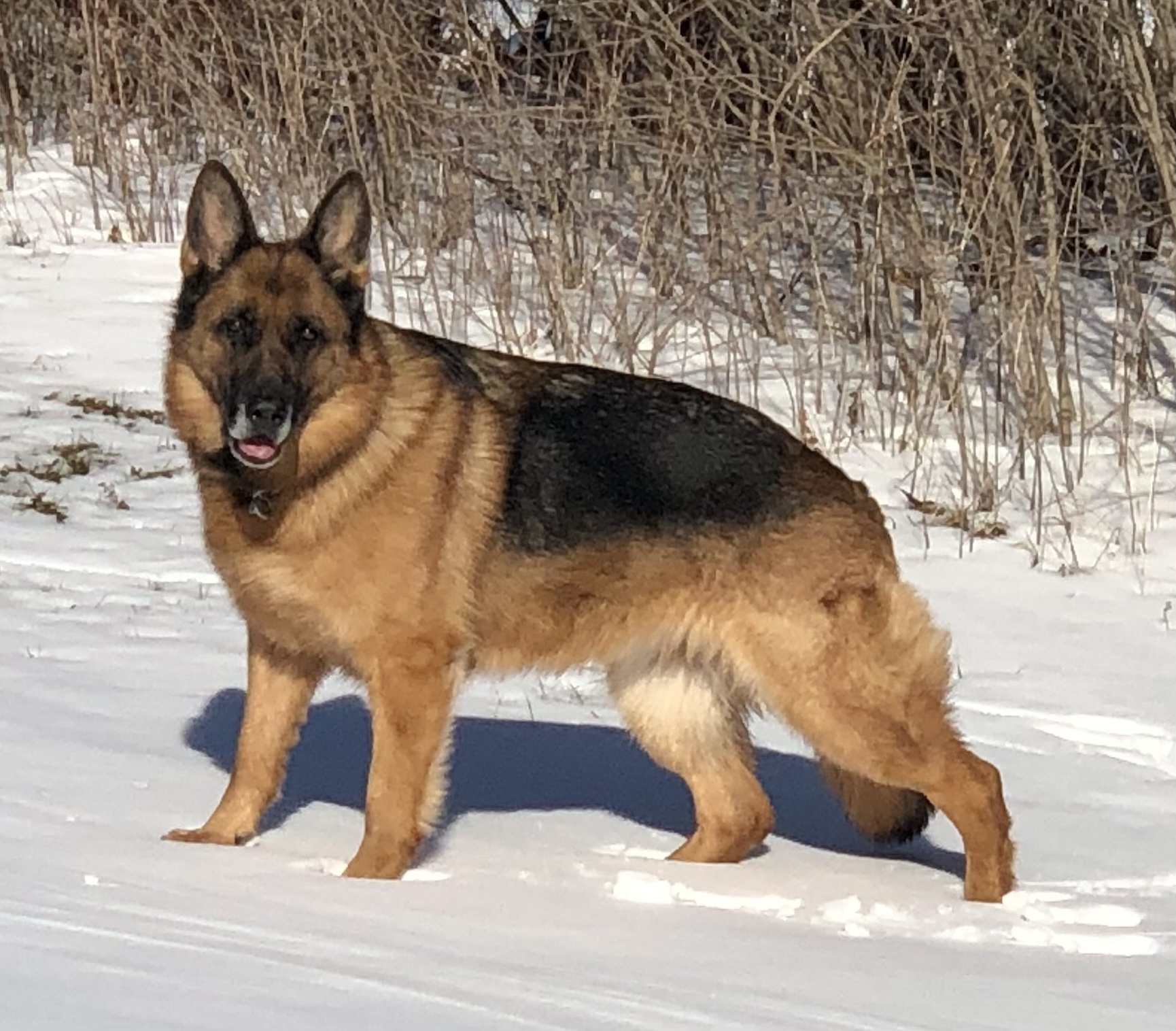 Preserving the breed is at the utmost importance to us so our dogs are bred to uphold German SV standards. They are thoroughly health tested (hips elbows back), Titled in IGP, and shown in German SV shows. We breed to the German SV standard to ensure we have the most stable and healthy dogs for your family.
I, Peggy Buchman, grew up with German Shepherd dogs and have loved them my entire life. My daughter started training German Shepherd Puppies and dogs in IGP, service work, and pet training and it has brought back all of my favorite memories of them. She and I both are now involved in Schutzhund/IGP, showing, and breeding shepherds, and I've fallen in love all over again.
What a wonderful experience this has been, breeding and raising German Shepherd puppies. Watching the development of them as they grow with their new families, feedback has been amazing. Many families have come back for a second and third German Shepherd Puppy. We have dogs in sport homes, service homes, and mostly family companion homes where comes our most important focus, temperament!
Since we raise our own dogs and keep from our own stock we have a great understanding what is behind your puppy and his or her pedigree. We don't buy titled dogs and breed for "quantity" rather we keep from our own program to further and improve our own bloodlines. Raising and training our own dogs to the German standard takes a lot of commitment, time, expense, and is never easy. It's a lot of work and we believe that it is absolutely worth it.
Please scroll down and slide left to scroll through our many Testimonials.
---
---
---
---
"I take pride in the German Shepherds I am producing here at von Buchmann German Shepherds" - Peggy
---
Real Testimonials
Mia is such a little love at about 40 pounds now with beautiful markings! She has been easy to train since she is so food motivated. She has a great personality and temperament. We just love her so much and thank you for a great bloodline!!
I have been so pleased with her that this past November we brought home another of Peggy's little ones. He is an amazingly sweet, loving, playful and handsome little guy. We couldn't be happier with our kids.
Hank is doing great! His color is fantastic and his listening skills are superb!!! He very much enjoys our outings and meeting new people still!! And does very well with it!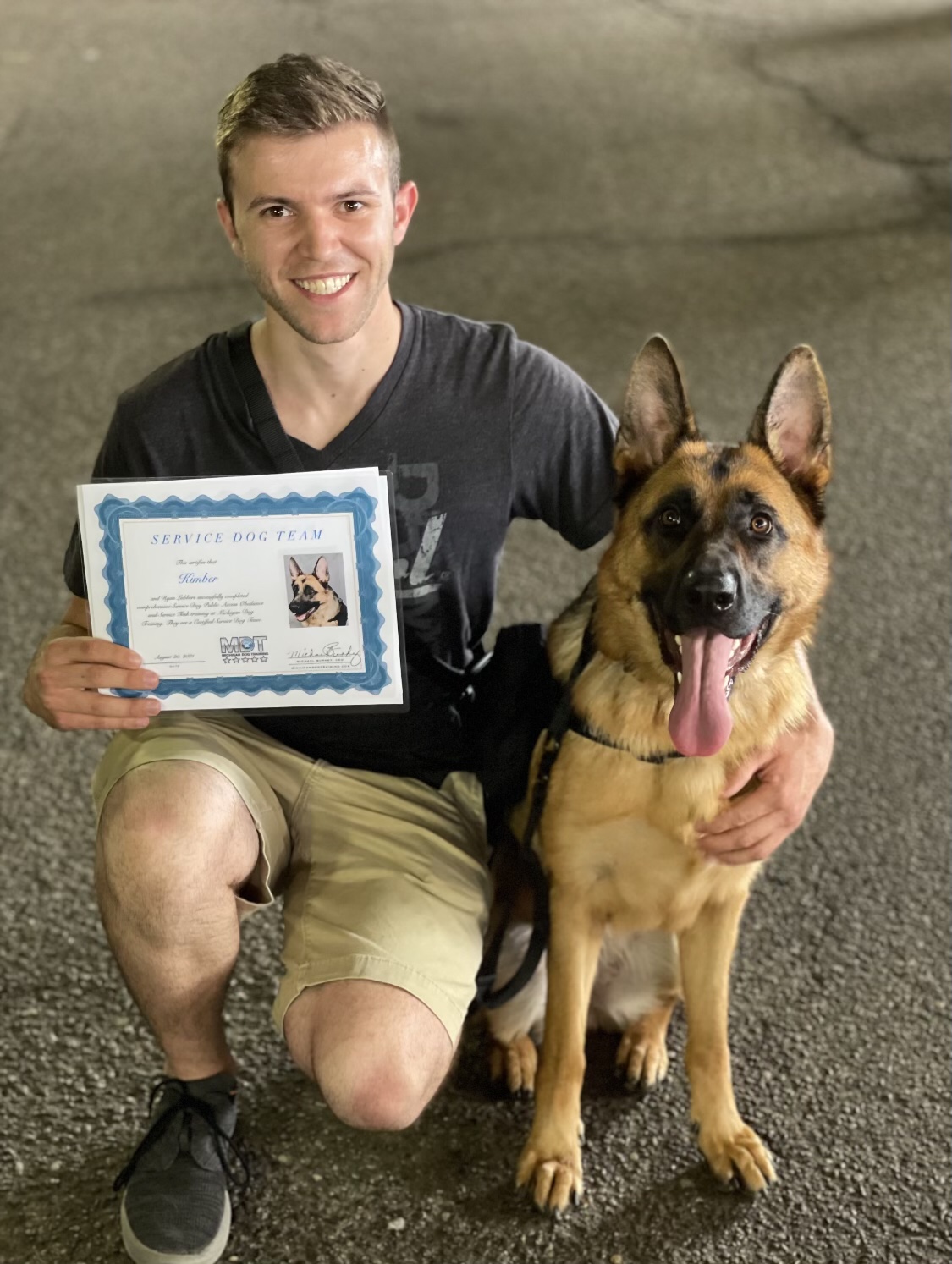 My puppy, which I name Kimber has been nothing short of amazing. She is a very beautiful GSD, healthy, and very willing to learn new things. I have actually train Kimber to be a diabetic alert service dog for myself, which she picked up very well and is happy to work. Peggy was more than willing to help evaluate which puppy of the litter would have the best attitude for my life being around several young children.
We had a wonderful experience with Von Buchmann German Shepherds. We interviewed other breeders but you could immediately tell that Peggy truly cared about her dogs and took care to ensure we would get a puppy that was a good fit for us. She answered all of our questions and continued to do so long after the actual adoption. Our dog has been a wonderful addition to our family and our next German Shepherd will be from Von Buchmann! High quality German Shepherds and a breeder who cares, you really can ask for more.
We purchased our first puppy from Von Buchmann German Shepherds in 2018. Since then, we have been back to get two more puppies. Peggy is a very knowledgeable breeder and her dogs are beautiful and well trained with great temperaments. We are very pleased with Von Buchmann German Shepherds.
I purchased a GSD from Von Buchmann German Shepherds, who was fully trained and two years of age. He is the best-dog and -friend I've ever had. Besides his physical beauty, he has a protective yet loving temperament, listens and responds to all commands, was well socialized and mannered, and only barks when alerting me to perceived danger. His breeder and trainer (Peggy), did an outstanding job and has always been available to answer any questions I've had. I highly recommend and have referred friends and family to this breeder/trainer. You will not be disappointed.
We bought our first German Shepherd from this breeder and have been over the moon impressed with how this pup fits perfectly in to our family. Peggy did a great job of recommending the perfect puppy based on drive and temperament for our family with three young boys. Our pup is currently 11mo old and such a joy.
Ever the professional, Peggy answered all of my (possibly annoying) first time dog owner questions with care and grace. She has been a resource for us months after our purchase and I would not hesitate to contact her with questions in the future. I highly recommend this breeder without reservation.
I've received 2 puppies in the last 5 years from Von Buchmann German Shepherds and I truly couldn't be happier. Both dogs, a male and female, have become such a part of our lives that our family wouldn't be whole without them.
Their temperament, physique, coats and general health are outstanding.
Somewhere down the line if I decide to get yet another pup, I wouldn't think about going anywhere else.
I give Von Buchmann German Shepherds a 5 star! I have a beautiful 18 month girl from Phoenix. Peggy Buchmann matched the perfect pup with what our family wanted in a Shepherd. Our pup was used to a household environment, family life, and well socialized for her age when we got her. The follow up with Peggy has been amazing. She is quick to answer questions and offer support and suggestions. When it is time to add a second Shepherd to our family I will be returning to Von Buchmann German Shepherds. Peggy takes her breeding seriously and strives for great temperment, good health, and beauty with her pups.
Very knowledgeable, caring and responsible breeder that is always responsive to concerns or questions! Peggy has gorgeous, stable dogs that won't disappoint. Our second male from her is now 7mos and is incredible!
We have had our beautiful Luca with us for nearly 10 years. She is the most beautiful intelligent, funny and loving shepherd we've had the honor of knowing (this is our family's fourth GSD). We will not hesitate to look to Von Buchmann for our next family member. Thank you for such excellence.
---
Puppy Socialization
What is Socialization?
It's actually just what it sounds like –introducing a German Shepherd puppy or dog to social situations. This includes people, other dogs, other pets, new areas and different situations. Each experience must be a positive experience.
Why Is Socialization So Important?
All puppies, including German Shepherd puppies, need to learn appropriate behavior. It's critical for puppies to learn this early on. Otherwise, your German Shepherd dog will be either too shy or aggressive in varying situations. You want your dog to be able to handle new people and new situations.
How von Buchmann German Shepherds Socializes Puppies
In my home, we have plenty of different people in and out of our Michigan home. They all love puppies and dogs and play with them. We also expose our German Shepherd puppies to puppy safe dogs and pets within our pack. Another socialization technique is taking the dogs to new environments. We make sure our German Shepherd puppies have as many socialization opportunities as possible. Here are some socialization tips you can use once you bring your German Shepherd puppy home:
---
---
Get in Touch with us Today
---
Contact us for more information about our German Shepherd Puppies and Trained Dogs.
---
---
Or fill out the quick contact form below – we will respond within 24 hours
---
Von Buchmann Michigan German Shepherds is located now in Ira, Michigan. We're off of I-94 and very accessible. This is in the Metro Detroit area, about an hour from the Detroit Metro Airport. We also ship puppies to any United States destination.